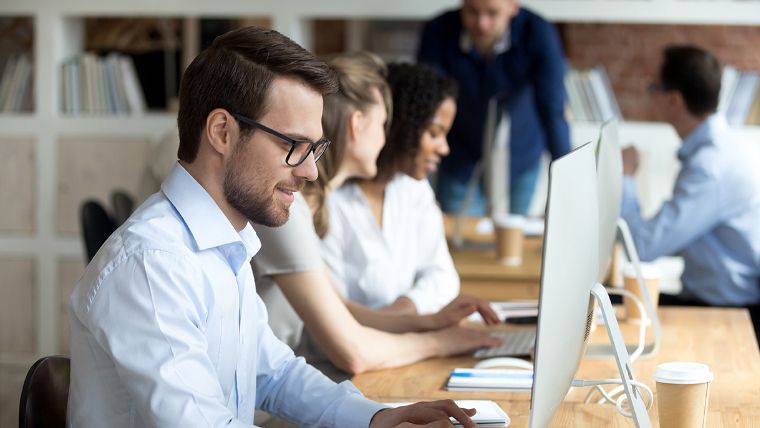 NOC stands for network operations center is a centralized location that your IT team uses to monitor and improve the health of your network to keep it performing at its best. Think of a NOC as a hub made of experts, procedures, and tools that work together to ensure your network is firing on all cylinders.
This center is a key component of your network solutions, which are a big priority for any organization that runs on digital and online interfaces. In the modern workforce, dozens of our collaborations, payments, troubleshooting, data storage, and other processes are done over a network. That network needs to be properly and safely operating at all times to keep your business running and protect your brand; still, this isn't always an easy task.
Networks face a lot of potential challenges despite how integral they are to your operations. However, with the right tools and services, such as a NOC, you can enjoy the peace of mind that comes with professionally managed network monitoring. This article will answer the question "what is NOC?" and highlight the most important functions your business can benefit from.
How Does a NOC Work?
A network operations center is going to give you the visibility you need to monitor and assess your network status so that you can quickly detect issues or interruptions and mitigate the network risks that otherwise damage your business. This includes faulty hardware or equipment, wireless systems, firewalls, servers, databases, virtual machines, telecommunications, satellite environments, dashboards, and any other devices that rely on your network connectivity, like your IoT fleet of devices.
At the end of the day, a NOC is at the core of your protection against network failures or breakdowns and actively ensures your network performance is at optimal levels. Here are other specific roles a NOC will take on to ensure both your network and your organization function at their best.
Manage customer network concerns. A NOC looks into issues that stem from customer support calls and takes care of tickets created by those calls and other areas of concern. They integrate with a customer's network tools to ensure a positive customer experience.
Anticipate risks. NOC personnel are also responsible for taking action to resolve issues, anomalies, or threats before they can affect business operations or lead to other problems related to service delivery or regulatory compliance. A NOC tech should always be monitoring and researching suspicious behavior or activity on the network and adjust accordingly.
Patch management. To work at its best, a network needs to be updated regularly, as do any devices that typically operate on that network. "Patches" help keep all of a company's software and devices up-to-date, as well as fix vulnerabilities like bugs that may threaten the security of your network.
Antivirus scanning and remediation. You likely have installed antivirus software that works to prevent viruses from infecting your network, but a lot of this software can be expensive and still fail to stop viruses. NOCs use antivirus software, plus additional support so that viruses don't stand a chance against both advanced programs and human experts who can proactively pursue threats.
Backup, storage, and recovery. Networks will store important data, but data is not immune to corruption, which means your information is at risk of being lost or damaged. NOCs provide data backups and storage tools that will quickly restore data that is compromised, so your data is protected from direct attacks and system failures.
Your NOC is responsible for all of these tasks and more, and with the proper resources and procedures, your network will be the last concern on your mind. As NOC specialists troubleshoot network incidents, escalate and prioritize bigger issues, and process the everyday maintenance your network requires, your employees and clients will enjoy seamless connectivity and access to everything they need.
What are the Benefits of NOC?
The team of experts, the technology and software they use, and the many tasks NOCs take on will ultimately protect your business from both external threats and internal inefficiencies. Even small companies face network threats, and larger companies will especially benefit from a NOC service that can keep up with large-scale network needs and devices. Here are just some of the immediate benefits you'll see when you use a network operations center.
Reduced downtime
One of the clearest benefits of a NOC is how much more productive your operations can be because your network is rarely out of order. Most issues that would cause downtime for your website or internal systems will be prevented since your network is being monitored at all times by a professional team that is 100 percent dedicated to your network quality. Plus, even when there are situations that temporarily shut your network or operations down, you will have the best personnel handling those issues and getting your services up and running in no time.
Improved security management
Your network is always under attack from criminals trying to access your data through cracks in your security. NOC adds an additional layer of protection for any size of company so that your network is not compromised. After all, your network connects both your users and potential criminals to your entire system of data, so no network security measure is too dramatic.
Immediate incident response
The response time of a NOC is going to be much improved compared to an internal IT department that is wearing many hats for your organization. The remote NOC staff will have an alert system that quickly notifies their specialists and guarantees quick response times for even the smallest of problems or threats. Not only does this prevent serious damage to your network and other systems, but it also keeps your teams more productive and ensures that your clients won't suffer due to a lengthy issue.
Reduced time and labor
Your IT team will appreciate the load off of their unending list of tasks since you can outsource so much of your network operations to a competent NOC. Instead of internal IT specialists using their valuable time on tedious tasks like stockpiling data, investigating threats, day-to-day monitoring of applications and software, and responding to all levels of risk, NOC engineers will own those duties. This frees your IT team and allows them to focus on more complicated issues and all elements of your technological strategies.
Reduction in operating costs
Your internal IT department is an integral part of your organization, but they are also one of the most expensive departments to run. The technology and software demands, the labor of your team, and the constant barrage of complaints and complications will keep your IT department busy, but your internal team doesn't have to be as big (or as overextended) when you have a NOC on hand. This will save you money since you can employ a smaller fleet of professionals for your operation and let a NOC handle more network responsibilities.
24/7/365 assurance
You can count on increased support through around-the-clock network monitoring that your NOC should offer. Most organizations need a reliable and secure network at all hours, even outside of a 9am-5pm workday. Not only do most targeted attacks come on weekends or holidays when you may be least expecting it, but if you suddenly lose your network function in the middle of the night, it can take too much time to remediate the issue and cost you in the long run.
Experts reduce risk
When the network itself is the number one priority and field of expertise for NOC technicians, there is far more security for your business and connectivity. Professionals who have experience and advanced technology can protect your network much more effectively, which saves you time, money, and stress since those experts are perfectly qualified to handle issues big and small.
Top-tier resources available
If you want your business to be competitive in its field while maintaining adequate security, you do need the best of the best when it comes to software and other resources. With a NOC, you are not only paying for helpful and certified personnel but the advanced technologies they use, too. Your company will be protected by the latest software and hardware that network security and performance have to offer.
Reporting in real-time
Instead of only responding to issues or complaints, a NOC will gather data, analyze your infrastructure, and use reporting in real-time to improve your network performance and offer recommendations. Engineers at a stellar NOC service won't just wait for the worst scenarios; actively pursuing improvements and protecting both your network and your brand should be part of your network strategy.
Tailored features for your organization
Based on the needs of your business and infrastructure, most NOC platforms and services offer some level of customization that allows you to tailor your services to be the most useful. In that regard, you'll get the biggest bang for your buck with the confidence of knowing your biggest blind spots and concerns are being professionally analyzed and improved.
What's the difference between NOC and SOC?
Both NOCs and SOCs protect your company from complications that threaten your business and may even overlap a bit in terms of monitoring, but each center has slightly different priorities. Network operations centers focus more on remote monitoring of your network and ensuring the general maintenance and upkeep of your network. SOC stands for security operations center, and as the name suggests, SOCs are far more focused on security.
Both types of monitoring are important safety measures for your organization and usually act as an IT service partner—each service simply has different priorities. Keeping your network secure (along with many other elements of your infrastructure) is no small feat, and while NOC will definitely protect and monitor your network, a SOC is better equipped to protect against cyber threats. Any networks, applications, devices, and other assets that are at high risk of data breaches are constantly monitored by SOCs to uncover vulnerabilities and fraudulent activity.
SOC specialists mitigate security risks and remediate breaches along with other important tasks such as log management or intrusion detection and prevention, which are all part of your network security. For a NOC, there is a level of security monitoring, but there is also more emphasis on the health of your network and how well it is performing, not just the potential security threats it may be facing at any given time.
Also, it's best to note that a NOC (and a SOC) are not a help desk that interacts with end-users or clients. NOC is all about back-end maintenance and incident resolution, which does offer support for client issues as we've discussed, but does not act as a customer service or call center. Both NOCs and SOCs work behind the scenes as managed service providers (MSPs).
How To Hire the Right NOC
While you can try and run your own network operations center in-house, outsourcing your NOC needs is much more efficient for your business and your internal teams. Your IT department has endless tasks to keep up with and doesn't usually have the bandwidth to constantly monitor, troubleshoot, and update your network without neglecting some other aspect of their job.
Hiring a NOC takes a serious amount of work and pressure off of your internal team, and instead of being one of many responsibilities, a NOC will solely prioritize your network. This means 24/7/365 monitoring,
Keep in mind, however, that not all NOCs operate at the same caliber. All of the important benefits we've discussed aren't necessarily guaranteed with any network operations center. A NOC must be capable of preventing catastrophic outages and dealing with smaller day-to-day flags. Their priorities should be to maximize the uptime of all IT services and create a completely secure environment for your operations.
You want a properly trained and talented IT staff that is well equipped to handle your remote network services without your own team holding their hand. Along with a NOC's ability to function independently, you still need a service that works with your team to collaborate and communicate effectively. Plus, the people are only a part of the package; a NOC service must also offer intelligent software that accurately and efficiently monitors your network. Suffice it to say, you should have high expectations for a NOC service provider since you're trusting it with one of the most critical elements of your organization.
Open Systems offers an all-inclusive 24×7 NOC service that is brimming with tools and facilities designed to secure the availability and stability of your critical ICT infrastructures. We pride ourselves on not only the proactive approach we take to your network performance, but our collaborative way of interacting with your team and excitement to act on your feedback, too. Learn more about what Open System NOC can do for your company and contact us today!