Investments into Open Systems SASE Pay Off
Stop investing in independent point-solutions that result in incompatible environments and overlapping services causing expensive and complex operations. Benefit from a high return on investment with Open Systems SASE.
Savings on set-up costs
Reduction in annual operations costs
increase in productivity
Reduce Costs and Complexity
Forget about the headaches of deploying and operating disjointed, expensive point-services. Drastically reduce complexity by leveraging a unified SASE solution. Explore how Open Systems SASE outperforms traditional managed services providers when it comes to setup, annual operations, and technology costs.
Reduce Downtime and Improve Productivity
By providing a performant and reliable SASE platform, Open Systems helps organizations reduce downtime, improve the efficiency of network and security administration, and increase user productivity.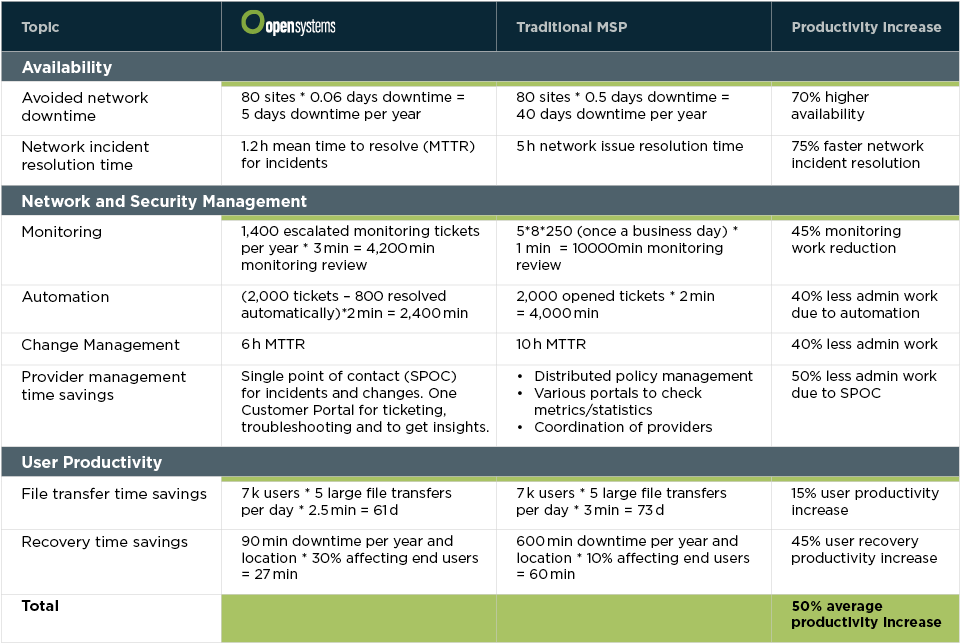 Benefit From a Future-Proof Solution
Don't worry about rigid, inflexible architecture which doesn't match your infrastructure needs. See how Open Systems' future-proof, end-to-end engineered SASE platform can help you solve the challenges with your current managed services provider.
Open Systems allowed us to avoid a lot of upfront capital investment. It saves us a lot of cash out of pocket, and long-term helps us realize a lot of the operational expense cost savings that SD-WAN in general promises, but many companies aren't able to realize.
Chris Hall
VP of Global Information Technology at KEMET
Although we are dealing with really low budgets, we want to serve our colleagues in a professional manner, and this means to serve them with high-performance infrastructure.
Oliver Vavtar
Team Leader Network Services at SOS Children's Villages International